program Schedule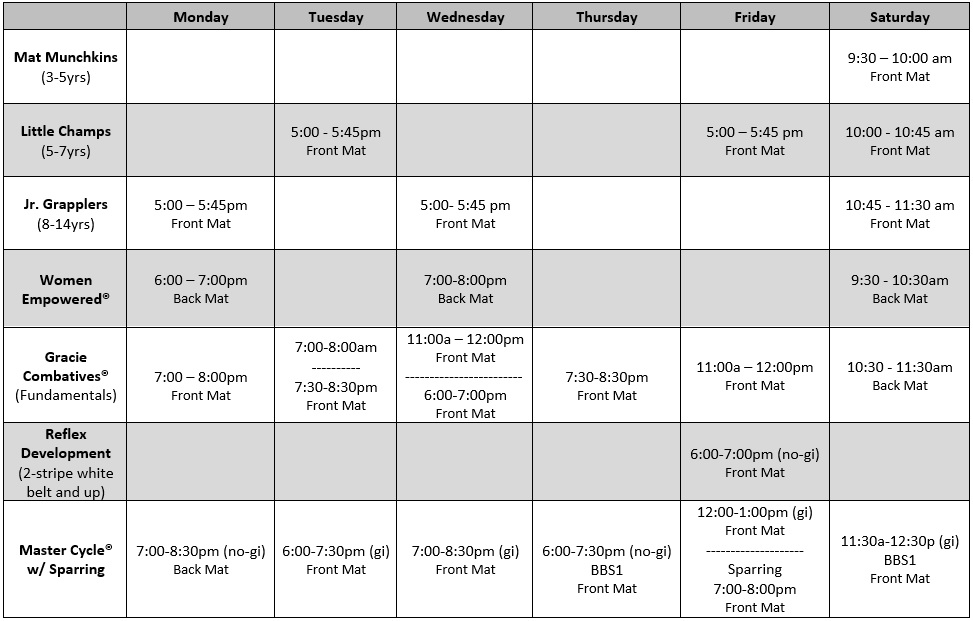 A clean white gi (uniform) is required for all classes, except no-gi and Women Empowered® classes. Proper no-gi attire is required: rash guard or t-shirt, spats & grappling shorts, or gi pants. Fight Simulation class requires 5.5-8 oz open finger gloves and mouthpiece.
(If you are visiting you may bring your own white gi, or may rent one from the school)
__________________________________
HOLIDAY CLOSURES 2023: (subject to change)
New Year's Day: Sunday, January 1, 2022
Memorial Day Weekend: Saturday, May 27 through Monday, May 29
Independence Day: Monday, July 3 and Tuesday, July 4
Labor Day: Monday, September 4
Thanksgiving & Black Friday: Thursday, November 23 & Friday, November 24
Winter Break: Saturday, December 23 through Monday, January 1st
This Certified Gracie Jiu-Jitsu Training Center is independently owned and operated. Gracie Jiu-Jitsu®, Gracie Combatives®, Gracie Bullyproof®, Women Empowered®, and Certified Gracie Jiu-Jitsu Training Center®, are registered trademarks used under license from Gracie University.